Mini Bernedoodle Parents
Mini Bernedoodles are a cross between an AKC purebred Bernese Mountain Dog and an AKC purebred Miniature Poodle.
Mini Bernedoodles are known for their coats having hypoallergenic properties with wavy to curly hair and minimal shedding. Their colors range from black/white, black/rust, to black/white/rust.
Each Mini Bernedoodle's appearance can vary based on the genetic difference in parents. They are extremely loyal, good-natured, playful, and affectionate. They become attached to their families and are content to be beside them.
Lulu is a small and very sweet Mini Bernedoodle. She has mastered the couch potato pose, thrives on attention, and definitely is a lap dog! She is happy when we are happy. Her litters will be different color F1b Petite Mini Bernedoodles, and they will average about 30 pounds as adult dogs.
Doodle Dog Hill has an exciting addition to our family — A Mini Bernedoodle named Gigi Louise. Gigi a 40-pound very playful tri-colored Mini Bernedoodle who loves chew toys and mischief! She has cuteness overload, which helps keep her out of trouble.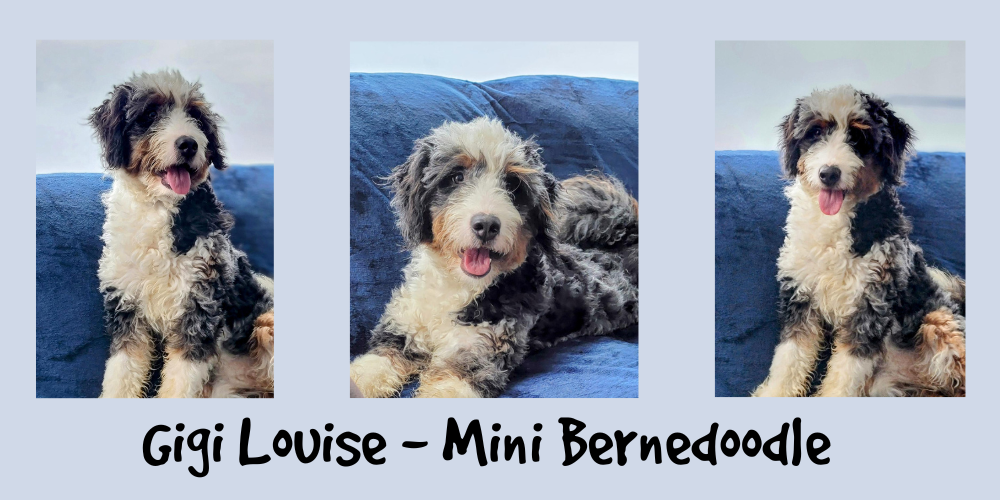 Wren, a charming Mini Bernedoodle, is a sweet and lively girl. She has become our little shadow. We nicked named her Lovie because that is what she does. She will be a wonderful mamma to future F1b Mini Bernedoodles.