Christmas Mini Bernedoodles puppies are coming!! Get on our reservation list now to adopt one of our adorable Mini Bernedoodles, ready to go home in December!
If you are interested in one of our Mini Bernedoodle puppies for your family, click on the link to our application page.
Miss Aribell and Miss Wren are the Mini Bernedoodle mamas. Mr. Laken, a Mini Parti Poodle, is the baby daddy! The puppies will be born in October.
We deliver anywhere in Wisconsin to your door or can meet you at a bordering state. We can deliver your Doodle Dog to you ANYWHERE in the United States – shipping with a puppy nanny!
Get on our reservation list today to bring home your Christmas puppy!
F1B Mini Bernedoodle Prices
Our F1B Mini Bernedoodles puppies are $1500 regardless of gender or color. The price includes the Wisconsin sales tax.
We offer a military discount of $300 to qualified families. Ask us how you may qualify.
What is a Mini Bernedoodle
A Mini Bernedoodle is a cross between a Mini Poodle and a Miniature Bernedoodle. They are known for the hypoallergenic properties of its coat.
They are extremely smart, loyal, good-natured, and love the outdoors. They are happy if you are happy type mini doodles. They make great family or therapy pets as they are so easy to socialize.
Our Mini Bernedoodles will grow 15-20 inches tall and weigh 25-35 pounds. Mini Bernedoodle coats are typically wavy and curly, which results in minimal shedding. Their coat colors range, with the most common combinations being black, black and brown, black and white, or black, white, and brown.

Here are some of our Mini Bernedoodles from past litters.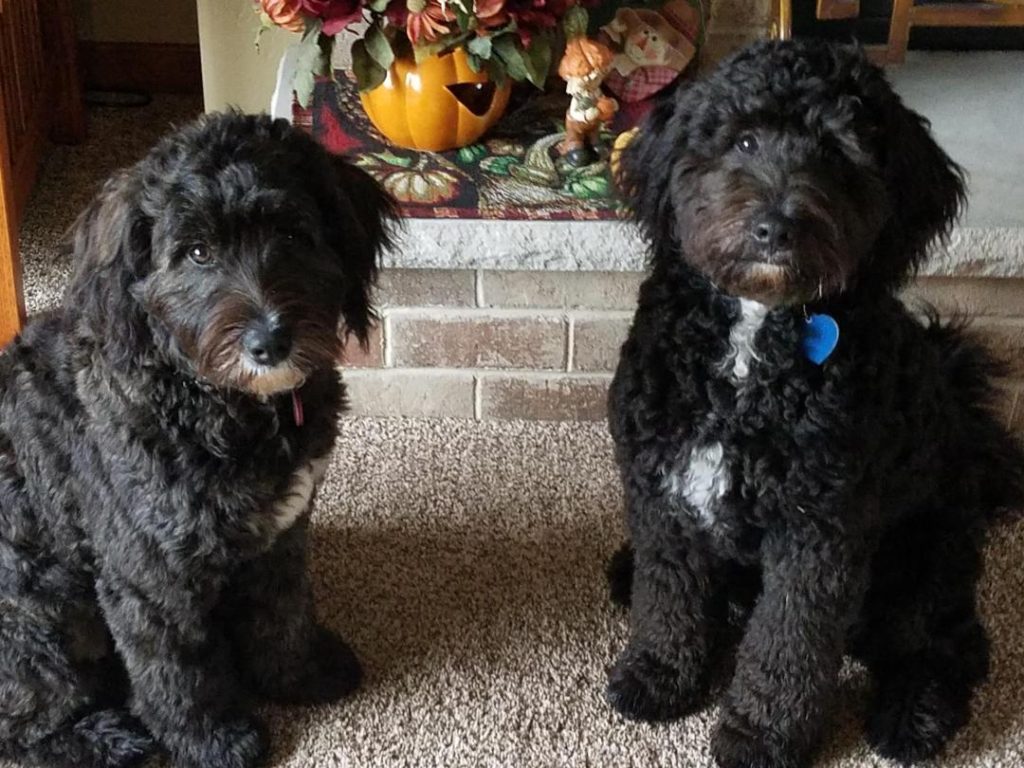 Our F1 Mini Bernedoodle Puppies:
Are handled by us daily from the day they're born. They are very well socialized from birth till they go to their new homes.
Start potty training and kennel training while they're here. We use pine shavings/ alfalfa pellets as it holds a pee/poo scent and teaches them where the appropriate potty area is.
Have a well-puppy check-up with our certified veterinarian and are given their first vaccinations. They also have several worming treatments. You will be given all health documentation and a health certificate.
Will come with a puppy starter kit including a chew toy, a puppy blanket with sibling scent to help with transitioning, detailed puppy health documents, 2-year health guarantee documentation, three days of puppy food, five days of probiotics, and a birth certificate. Parents are health tested. We are there for you after your puppy goes home to help with the transition.
We arrange for delivery of our mini doodle baby to your door or have alternative shipping options for your puppy. Contact us for further details.
A lifetime of support for you and your puppy.
Are "loved loved loved" by us, their "foster" family, until they go to you – their forever family.
A deposit of $300 will hold your Mini Bernedoodle puppy for you until pick-up can be arranged. (After the deposit is made and your puppy is 7 weeks old, a $10.00 a day charge will be added until your puppy is picked up to cover the costs of caring for your puppy.) Anything over one week will be $100 for the week of boarding. We do not intend to be a boarding facility. It is subject to our availability. Deposits are non-transferable to other people and non-refundable for ANY REASON, but good for one year from receiving them on any puppy. By submitting a deposit, you agree with our policies written on our website, including but not limited to our non-refundable deposit policy and puppy guarantee document. Contact us for more information on our puppies and pricing information.